Re-seeding the Dream East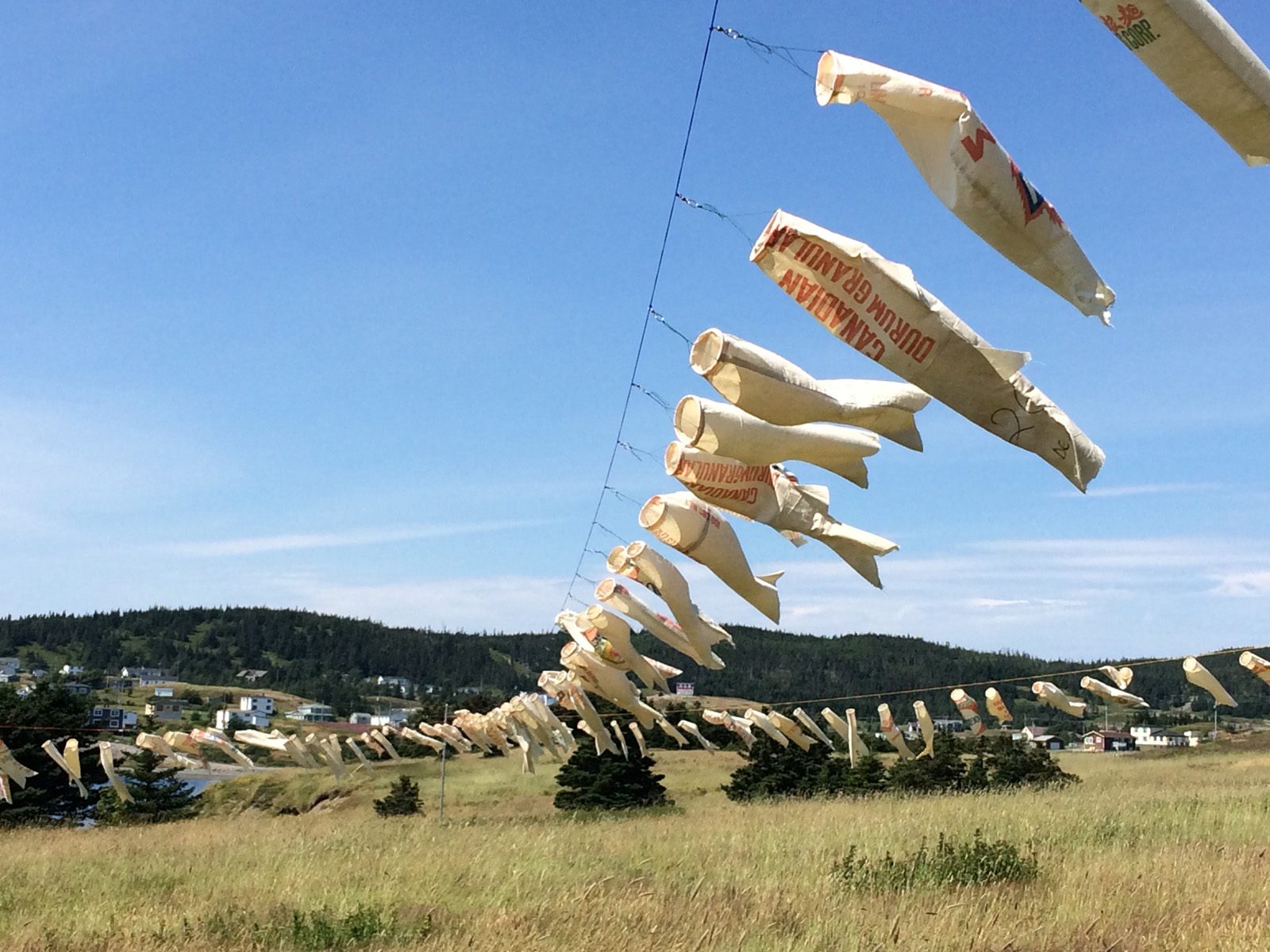 Re-Seeding the Dream East 2017
Site-specific installation
Commissioned by Bonavista Biennale
Doran Meadow, Port Rexton, Newfoundland.
The second iteration of Re-Seeding the Dream was commissioned by the inaugural Bonavista Biennale in 2017. It "finishes" the project begun by the first Re-Seeding — a site-specific installation examining scarcity and abundance, fishing and farming that began in 1997 south of Lethbridge, Alberta. Twenty years later, and thousands of miles from the wheat field where the first fish-shaped windsocks flew, Hall marked again those parallels she had seen between fishing and farming, their weather dependencies, their precarity, and the continuing role of women's labour in both. Twenty-five years after the Cod Moratorium was imposed in the Newfoundland fishery, her dream of the return of the wild cod was, in 2017, still only a dream.
Re-Seeding the Dream East, commissioned by the Biennale, was installed in Doran Meadow, Port Rexton with the sea as backdrop and wind, rain and fog as a daily changing context. It alludes to the 1992 cod moratorium that devastated Newfoundland communities and the still-unrealized dream of a full recovery of that fishery. An Alberta counterpart installation was installed in a wheat field near Lethbridge in 1997. Hall saw many parallels between farmers and fishermen, including the impact of weather, repetitive hard labour, physical and financial risk, years of abundance and decline. — Patricia Grattan, from the Bonavista Biennale 2017 Catalogue