Path to the Wishing Place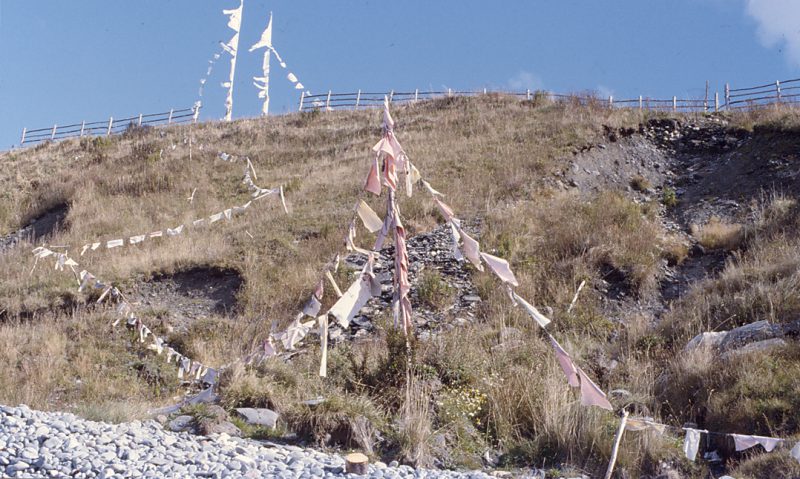 In the summer of 1988, Hall installed her first site-specific landwork as part of The International Sound Symposium. Working in St. Michael's, a small village on the Southern Shore, she navigated down a steep hill to a beach where no path existed, marking her way with sticks and line and brightly coloured cloths, to a place on the beach where she constructed a stone seat. Echoing the clothes-lines and ships flags of Newfoundland and the prayer flags of Tibet and wishing rags of Ireland, Path to the Wishing Place was a way to mark a journey to an inaccessible place where one might listen to the beachstones singing as the waves rolled back.
Created so they would "weather" and fade, the cloths were dyed but not chemically fixed, and Hall intended to collect them after a winter on site, and sew them into a "wind blanket". She was optimistic – and when she returned in the spring, the high seas that winter had rebuilt the beach and a landslide had destroyed the piece. She gathered its remnants and constructed a small installation with what remained. It was exhibited as a part of group show at Memorial University Art Gallery in 1989.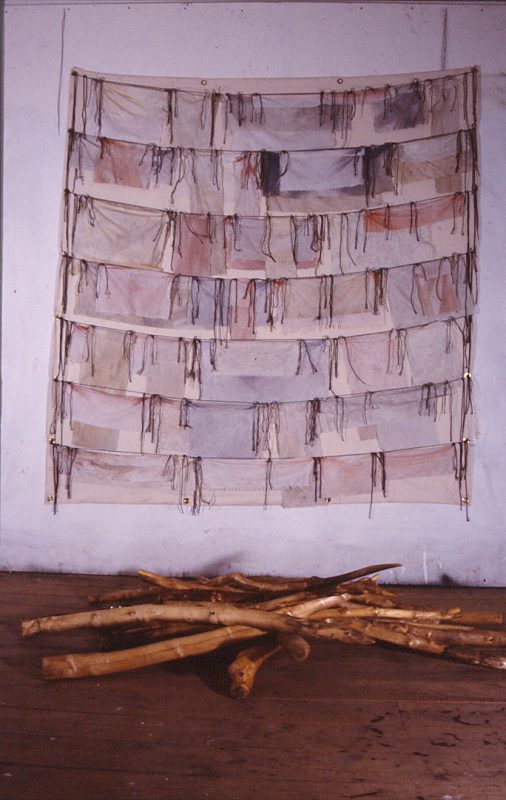 While in many ways this first encounter with working on the land can be seen as failing to achieve Hall's original intentions, in fact it proved foundational for the work to follow. Its processes and "lessons" can be seen in The Coil, and its form re-emerged in Re-Seeding the Dream.
The artist remains deeply grateful to Anne Meredith Barry, on whose land she installed this piece. Anne was a constant source of support and delight during this project, and indeed – in Hall's life and work thereafter. She took the photograph below and shared it – she was always looking and always sharing.