30 Days in Tilting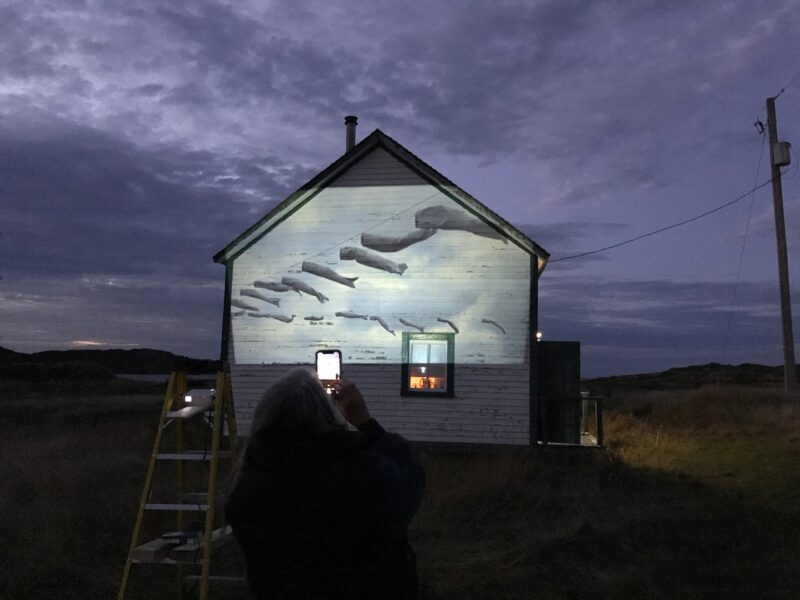 As Artist-in-Residence in Tilting on Fogo Island, Pam remounted Re-Seeding the Dream for the last time, and tended the flying flour-bag fish daily for 21 days. Every day was different… shifting light and changing winds. She woke each morning to find her fish still in the morning mist or flying wildly into a NE wind. It was a blessing and a farewell to this long and loving work that after almost 30 years,  re-called the losses of the Cod Moratorium and yet revealed the joy and hopefulness of  calling the wild fish back home.
She shot stills and video every day, posted daily on social media so community members could see how they were flying.  She did two public projections on the Reardon House and one on the Fish Blanket, a first work in a new series called The Memory Blankets. The Fish Blanket is made from 64 of the 150 fish that flew in Port Rexton in 2017 at the inaugural Bonavista Biennale. Emerging out of a pandemic practice of "unmaking", the blankets are made from things with histories of their own.   An experimental test video compilation (edited by Paddy Barry) was used for the projection, and a more expansive work for projection is underway.
The Tilting residency was profoundly fruitful for the artist, advancing her practice and deepening ties to Fogo Island that were re-awakened in 2012 when she returned there for the first time since 1975. She has been working there on and off since 2014.